System Maintenance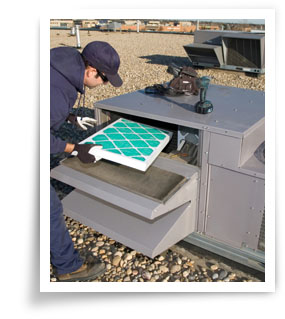 When you call Air Temp, you can be sure that you are contracting with a team of professionals who have the expertise and experience required to complete a comprehensive analysis of your systems and offer a long term solution. Our job is to properly analyze a situation and solve it with the most up-to-date technology, equipment, and products available. We perform service and repair on all brands and types of HVAC equipment for clients in a variety of industries.
Service & Maintenance
Heating and air conditioning systems require routine maintenance to maximize performance, maintain efficiency, ensure safety and increase reliability. Like any piece of equipment imperative to the daily operation of your business, systems should be inspected by an expert on a routine basis to ensure that your heating/cooling systems are operating safely and at peak performance.
Planned Maintenance
Planned, Predictive Maintenance is essential to the proper functioning of commercial HVAC equipment. If preventive maintenance is not performed regularly or if it is done haphazardly, the equipment will require extensive and costly repairs at a later date. This is why our planned maintenance agreements are critical to the longevity of your equipment and safety of your facility.
Here are just a few of the benefits you enjoy with our Planned Maintenance agreement:
Discounts – On the service and repairs of your equipment – including parts and labor.
Guaranteed Priority Service – propriety service given to preventive maintenance customers
Peace of Mind – Preventative maintenance can substantially prolong the life of your equipment – saving you money!
Long Term Savings – By reducing equipment repair costs, replacement costs, and reducing energy expenditures.
Significantly Reduced Utility Bills – Clean, well-maintained equipment runs efficiently and at peak capacity, lowering the monthly utility bills at your business.
The Customer Assurance, Review and Evaluation (C.A.R.E.) Program
The CARE program is a proactive Linc Service initiative designed to measure and improve customer satisfaction through direct customer feedback and communication. Through this program, an Air Temp Staff reviews the services provided to the customer and requests detailed feedback. This feedback is then followed-up on to insure complete customer satisfaction at all levels of the job.
The major elements of the C.A.R.E. Program are:
Linc Service Contractor Code of Ethics
Maintenance Agreement Start-up Procedure
C.A.R.E. Orientation Meeting
Customer C.A.R.E. Process
Contractor Monthly In-house C.A.R.E Meeting
Action Plans
Occassional Third Party Customer Satisfaction Surveys
Learn More About Planned Maintenance
If you your facility is in need of a system repair or maintenance agreement, contact us or visit our information request form.