Linc Services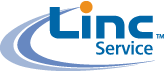 Air Temp is a partner in the Linc Service Network. This Linc network is made up of over 150 of the leading HVAC contractors in the United States, Canada and Bermuda. As a result of this partnership, Air Temp has access to a high quality infrastructure which provides first-class preventative maintenance and service programs to more than 40,000 customers. This international network of contractors holds 16,000 maintenance agreements for 26,000 facilities and includes 1300 sales and service representatives.
Only one contractor in 100 is qualified to become part of Linc's award-winning network. Linc Service Contractors are truly the "best of the best" so when you choose a contractor bearing the Linc Service name, you can be sure that you are dealing with a reputable company that employs only the most professional and highly skilled employees
Linc Benefits for our Clients
This Linc infrastructure also provides Air Temp with automated maintenance scheduling, a comprehensive library of up-to-date technical data and a network-wide national purchasing power that allows for fast, cost-efficient parts procurement. The Linc Network sets Air Temp apart from others by greatly expanding our available resources to benefit our customers.
As Linc Service Contractors, we offer our clients a comprehensive range of HVAC services and preventive maintenance programs for the following systems:
Computer Room Equipment
Clean Room
Custom Duct Work
Fabrication / Prefabrication
HVAC (Heating, Ventilating and Air Conditioning)
Refrigeration
Gas, Oil, Steam and Hot Water Heating
Boilers
Piping
Energy Management / Building Automation Services
Pneumatic / Electronic Controls
Environmental Chambers
Humidification
These programs are specifically designed to minimize system downtime, reduce equipment repairs, optimize productivity, and lower energy consumption costs.
Linc Service Contractors have access to ongoing technical and management training, computerized maintenance scheduling, cost control programs, and a full library of technical data on every type and make of equipment in use. Linc's strengths include a highly professional and proven approach to marketing, staffing, training, selling, and operations. Other HVAC services provided by Linc Service Contractors include system design and engineering, energy-efficient retrofitting, and maintenance and repair services for HVAC systems of all sizes and complexity.
Long Term Savings and Linc
Not only do Linc Service Contractors develop mechanical solutions, they also provide clients with financial justification that identifies the savings - savings clients realize due to more energy-efficient HVAC equipment that's properly upgraded, maintained and operated. Today's systems are highly sophisticated and demanding, which is why companies and institutions increasingly select Air Temp to provide innovative HVAC solutions. If you'd like to learn more, contact us or visit our information request form.