Company News
Air Temp Heating & Air Conditioning Earns Prestigious STAR Qualification from Leading Trade Association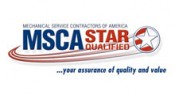 Binghamton, New York - Initiating a new standard of excellence for the mechanical service contracting industry, the Mechanical Service Contractors of America, MSCA, has raised the bar for training and professionalism with their new MSCA STAR Qualification program. The association initiative of excellence offers proof to building owners and facilities managers that the STAR qualified contractor is providing the highest level of skill, quality, value, and professionalism in the industry. Recently, Air Temp Heating & Air Conditioning of Binghamton, New York was designated as a STAR after surpassing stringent business and HVAC service standards set forth by MSCA. Air Temp is 1 of 3 Star Contractors in New York State and 1 of 109 in the United States.
Contractors that achieve MSCA STAR Qualified status belong to an elite group of contractors. These contractors have verified that they uphold a strict code of business ethics, employ the best trained and most qualified workforce, maintain a safety record above the industry average, offer outstanding customer service and focus on continuing education and training for all employees. A third party review committee set up through the National Inspection, Testing and Certification Corporation (NITC), a leading testing and certifying organization that is ISO 9001:2000 certified and an ANSI accredited certifier, determines qualification based on documented proof of criteria submitted by contractors. When the health, safety, and comfort of building occupants are on the line, it's vital to hire a highly competent MSCA STAR contractor.
Air Temp was established on February 1, 1984 and has recently celebrated their 30th business anniversary. Air Temp Heating & Air Conditioning, Inc. is a full service organization serving central New York. They have locations in Binghamton, Syracuse and Utica. Air Temp has been designing, constructing, installing, and servicing complete mechanical systems for over 30 years. A sampling of services their staff of experienced professionals can provide include: professional preventive maintenance, system design, engineering, fabrication, building automation systems, system balancing and fine tuning, retrofits, and a full service sheet metal shop. These are a few of the many reasons Air Temp is the Heating, Ventilation and Air Conditioning (HVAC) service leader in the commercial, industrial, and institutional markets throughout this region.